In Stephen Christopher Pikiell We Trust
Rutgers Is In Good Hands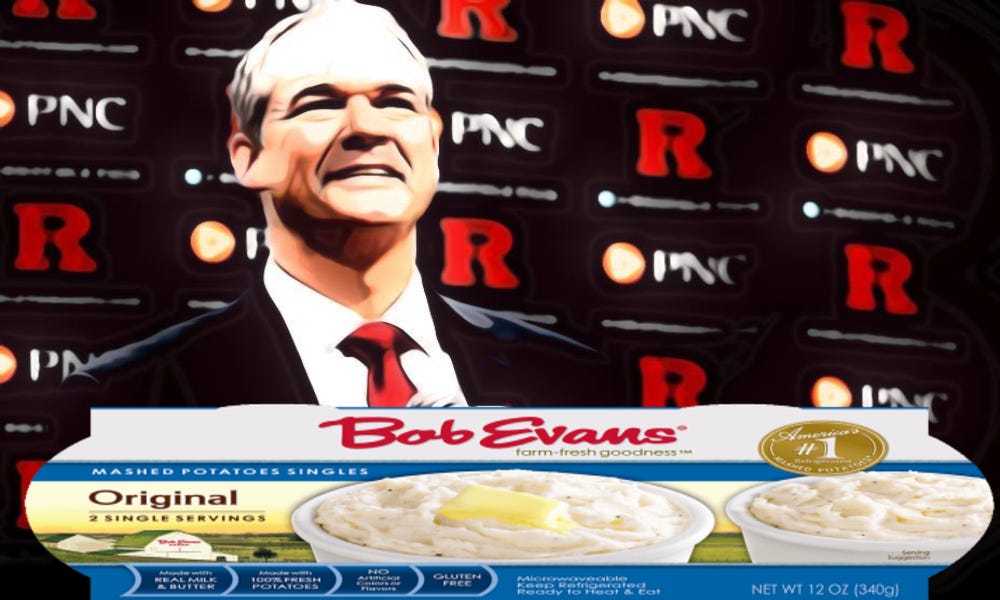 Steve Pikiell isn't Bob Evans. The latter is infamous for his instant mashed potatoes and whatnot, essentially a household name. The former, he's a shooty hoops coach who rose to prominence at Stony Brook.
Everything Bob Evans represents is instant satisfaction. In five minutes or less, you can be dining on one of his foods thanks to a microwave and whatever lumps of food his company has stored within the confines of a plastic container.
Thanks, Bob (I do not know if he's a real person).
Pikiell, though, isn't instant about anything. Celebrated at the end of his tenure with Stony Brook, using the immovable force known as Jameel Warney to reach the NCAA Tournament promise land, it actually took several seasons (and patience) before the Seawolves managed to be at least competent.
The Seawolves, as a program, were not nearly as developed as they are now. They entered the Division I ranks in 1999. When Pikiell took over in 2005, the program had won a total of only 64 games in the six seasons of its existence.
Initially, Pikiell also struggled, finishing each of his first three seasons without winning at least 10 games.
"We were building it almost from scratch," former Stony Brook assistant Jay Young told me several months ago, who is now the head coach at Fairfield.
Regarding his marriage with Rutgers, it wasn't a question if he'd do well, but whether or not the Scarlet Knights would be patient enough to let him do his from-scratch-cooking.
Again, he's no Bob Evans.
To be fair, who is?
Not exactly a blue-blood program, Rutgers is basketball purgatory. Big enough that the program should matter, but never stable enough to be anything other than on the wrong side of some jokes.
The Fred Hill era was so unforgettable people likely don't even remember it; Mike Rice, who was a decent coach, brought a scandal so insidious to the program it eventually made its way to morning TV shows; and Eddie Jordan did, well, nothing to help paint the program in a better light, inevitably fired for finishing with an overall winning percentage below 30 percent.
Bluh. It was bad, kids.
If it weren't for the Blue Demons in the Big East pigeonholed as the main national punchline, with DePaul-ing play for over a decade, it could have as easily been Rutgers facing the country's awful usage of puns.
Nonetheless, we're now in year four of the Grandmaster Stevie P era at Rutgers. While the previous three seasons showed some level of growth, the Scarlet Knights never finished with more than 15 wins.
They were better, I swear; although the record never indicated it.
Entering the 2019-20 season, mixed expectations were placed on the program. For starters, it's Rutgers, so it's a "believe it when I see it" situation for most fans. There was also the issue of the team losing its best player to the transfer portal in the offseason.
Then Saturday happened. Entering a game against the No. 22 ranked Seton Hall Pirates with a 7-3 record, Ron Harper Jr. (yup) scored 18 points to lead Rutgers to an upset victory.
Of course, it improved their record to 8-3 on the season; though this victory's impact goes beyond a few numbers lumped together on basketball-reference.
It represents what the last few seasons were meant to be for — growth, stabilization and the like. That, unlike our pal Bob Evans and his incredible mashed potatoes, Pikiell wasn't going to fix Rutgers overnight.
In fact, even with the win over an insanely talented Seton Hall team, this might not even be the sincere turning point for the program. Time will tell, as that hooker is undefeated, but this might merely be the hint of small change coming. Another piece of the Pikiell puzzle not yet fully put together.
So far, everything is mirroring his Stony Brook tenure. Three seasons of eh and uh and underwhelming win-loss records, with a clear jump in growth in year four (the Seawolves won 16 games in Pikiell's fourth season. The fifth season, they won the regular season AEC crown).
Nevertheless, it is proof. It's evidence to be used if things later turned somewhat sideways. If the right people at the university can overlook overall records, the aesthetics of the product on the court, eventually the Scarlet Knights will become a more than stable program.
If nothing else, Saturday showed it to be competent. Which isn't a backhanded compliment either, as this is exactly how he eventually grew Stony Brook into AEC world-beaters. There's layers and steps and cooking in the basketball kitchen that needs to be done — and Pikiell doesn't own a god damn microwave.
A team now capable of literally playing at the level of their toughest opponents, having a puncher's chance to take down some of them in the process.
Rutgers is young. Assuming the Scarlet Knights don't get randomly hit by the transfer portal next offseason, they'll only lose Akwasi Yeboah — a very good player, it's worth noting — from the starting rotation.
The 2019-20 team's ceiling is unknown. It's early. Saturday showed Rutgers' floor as a team willing to hurl haymakers. But if one is daring enough to look down this bumpy road known as Rutgers basketball, eyeing the corner representing the 2020-21 college basketball season, things might get a lot smoother for our friends in New Jersey.
And yeah. Rutgers might end up being so good — relative to Rutgers — we're going to now have friends in New Jersey.
Thanks a lot, Bob Evans.
The Expanse of Enchantment of The Week
Your favorite Internet Scribbler (patent still pending) just finished season four of The Expanse. It was good, even if some heavy fan-service to open actually put me off early in episode one.
I don't know why this happens for certain franchises. They go on a hiatus for whatever reason, then writers/creators feel a need to hurl a bunch of "we're back!" right in our faces when returning from the void. I love The Expanse lore. It's why I watch it. I don't need to be reminded I love it in blunt ways.
And. I. Digress…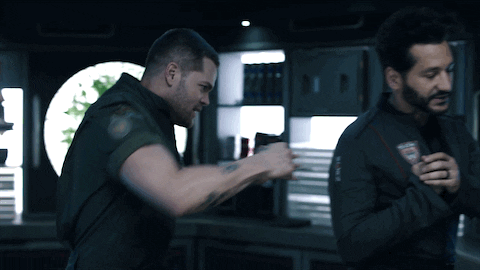 For those unaware, The Expanse aired on SyFy for three seasons and was then cancelled because that network would rather air mostly nonsense than anything good (it's the same network that canned an interesting Nightflyers show after only one season).
Last week, I dropped my space-drama rankings to some measure of disagreement from you guys (though, not as much as my whack fiction did).

The Expanse has now, for me, surpassed SGU and is quickly closing in on Battlestar (frack you, Edward James Olmos*).
Amazon, which began streaming the show, eventually saved it from cancellation, not only picking it up for a fourth season, but also already opting to give a green light for a fifth.
After that, it'll get interesting, as the source material (novels, baby!) does a pretty massive time jump in what would be soon in the television universe. Not next season, but if Amazon continues to keep the show, around Season Six or Seven.
The time jump is 30 years, by the way.
I don't want to spoil season four for anyone. However, The Expanse continues to be a space-drama done right. Some fancy it as Game of Thrones in space (because deaths and one of the source material writers having links to George RR Martin), but it's closer to an evolution of Battlestar Galatica and Stargate U. A show willing to focus on world and character building; rather than just "hey guys we're a space show!"
(I'm looking at you, 99 percent of space shows)
Unlike those two great franchises, it's one designed to have consequences to characters' actions. There's some forgiveness in The Expanse universe, especially for a few main characters, but the cast and crew do a great job making you "care for" side-characters who will eventually go one-on-one with death, usually losing in the process.
Anywho, for real Bobby Draper, your timing sucks!
Shouts of Enchantment of The Week
My bearded buddy Blake Lovell has launched a Substack of his own. It's far more college basketball heavy than mine. It's actually SEC-heavy. His podcast is also now hosted there. He's one of the very best SEC guys in the business, to be honest. If that's your thing, go over to his newsletter and subscribe.
Kyle Kensing — of numerous quality outlets — is one of college sports' best kept secrets. I've known Kyle for a pretty long ass time now. He was once cool enough to let me know that a story I once worked on was being used by Gonzaga at the Final Four in the school's media guide. Not only should you follow this surprisingly tall person on Twitter, but if you love college sports, read his work or drink lukewarm milk.
Buzz Aldrin Just Flexing On Twitter Of The Week
Me: I workout 40 minutes a day!
Buzz: I miss my fucking moon runs!
Me: …
Closing Words of Enchantment of The Week
Mark Twain once (supposedly, as it's apparently up for some debate) wrote:
"Life is short, break the rules, forgive quickly, kiss slowly, love truly, laugh uncontrollably, and never regret anything that made you smile."
You, reader, make me smile. I won't kiss you slowly or break the rules for you, but everything else is game…?
*I didn't mean that, Eddie.
---
We won't kiss, but you can subscribe!